Journey from Srinagar to Pahalgam: Exploring the Paradise of Kashmir
Are you ready to embark on an unforgettable journey from Srinagar to Pahalgam, a picturesque paradise nestled in the heart of Kashmir? If you are a traveller seeking to explore the natural beauty and serenity of the region, this blog is your ultimate guide.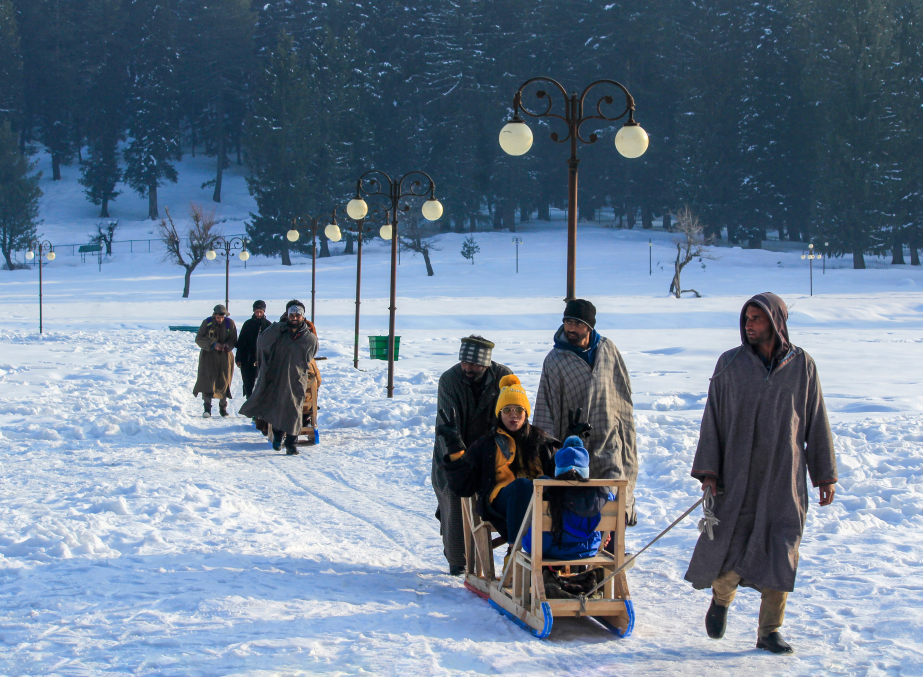 Pahalgam, often referred to as the "Valley of Shepherds," is truly a nature's delight showcasing stunning panoramas, lush meadows, soaring pines, soaring pines, and the sparkling Lidder River. It is a destination that promises not just a change of scenery but a change of pace, a true escape from the hustle and bustle of everyday life.
In this blog, we will take you on a virtual tour through the enchanting landscapes that unfold as you travel from the bustling city of Srinagar to the tranquil haven of Pahalgam. We will talk about the best travel routes for travelling from Srinagar to Pahalgam, what to see on the route, where to eat on the route and so much more. Along the way, we will also highlight the most captivating places to visit in Pahalgam, showcasing the unparalleled beauty and experiences that make this region an integral part of the breathtaking tapestry that is Kashmir Pahalgam.
So, whether you are a nature enthusiast, an adventure seeker, or someone looking for a peaceful retreat, join us as we delve into the wonders of Srinagar to Pahalgam and uncover the treasures that await in the heart of Kashmir's Pahalgam. Get ready to be captivated by the natural splendour and the rich culture of this remarkable destination.
Why Should You Travel from Srinagar to Pahalgam
A trip to Pahalgam lets you experience the unparalleled natural beauty of this pristine destination in Kashmir. A quick trip from Srinagar to Pahalgam gives you a visual treat of its sparkling rivers, scenic meadows, lush greenery, towering Himalayan ranges draped in snow, picturesque landscapes, mighty glaciers, serene lakes, and countryside huts and more.
This is one place where you will get to experience the breeze of fresh air, witness the blue skies running over the glorious landscapes like a comfy blanket, and listen to the relaxing sound of water streaming over rocks.
While nature lovers have immense scenic views, beautiful landscapes and meadows to soak in the beauty of Pahalgam, there is no dearth of adventure activities in Pahalgam for adventure seekers. Adventure enthusiasts can keep their adrenaline rush going with activities like river rafting, trekking, camping, skiing and trout fishing.
And mind you, not just the destination, the journey from Srinagar to Pahalgam itself is filled with experiences that make for a cherishable and enjoyable journey. This blog will unfold everything about your journey to Pahalgam from Srinagar as you read ahead.
Best Time to Visit Pahalgam from Srinagar
Being a hilly area and located at a high altitude, the weather in Pahalgam remains pleasant throughout the year, welcoming tourists in all seasons. However, the most suitable and best time to visit Pahalgam from Srinagar is March to November. This is the time when the most comfortable and pleasant to enjoy outdoor excursions and adventure activities. During these months, the temperature in Pahalgam varies between 1°C and 12°C.
The valleys of Pahalgam look mesmerizing during this time and transform into a picturesque landscape with lush greenery, blooming flowers, and vibrant vegetation. The hills and meadows that envelop the area burst with a vibrant tapestry of colours, creating a perfect backdrop for leisurely strolls and outdoor adventures. While the distant peaks may continue to bear remnants of snow, the overall atmosphere exudes a rejuvenating and welcoming aura. Furthermore, The Lidder River, which flows through Pahalgam, adds to the scenic beauty.
How to Reach Pahalgam from Srinagar
The journey from Srinagar to Pahalgam is pretty simple and straightforward. The total distance between Srinagar and Pahalgam is 88 km. It takes about 2 hours 30 minutes to reach Pahalgam from Srinagar. However, the total journey time also depends on your pitstops en route. The road conditions between Srinagar and Pahalgam are mostly good, making for a convenient road journey.
There are several ways of reaching Pahalgam from Srinagar.
Srinagar to Pahalgam by Train

You can reach Pahalgam from Srinagar by taking a train journey. For that, you need to board the train from Srinagar to Anantnag. Once you get down at Anantnag Railway station, you can take a bus or taxi to reach Pahalgam. The road journey from Anantnag to Pahalgam is roughly 2 hours and 30 minutes. While this is one of the ways to reach Pahalgam from Srinagar, we don't really recommend it considering the extensive travel duration and hassles of multiple modes of transport.

Srinagar to Pahalgam by Bus

You can reach Pahalgam from Srinagar by taking a State Transport Bus. There is only one direct JKSRTC bus that runs between Srinagar and Pahalgam. It takes about 2 hours and 40 minutes to reach Pahalgam. However, please note that the direct bus from Srinagar to Pahalgam is not regular if you travel in the low season or off-season. It is advisable to verify the details regarding JKSRTC bus services available at the TRC bus stand in Srinagar.

Apart from State Transport Bus, other private bus operators also operate on Srinagar – Pahalgam route. Private buses operate almost throughout the day. There are no set timings as the bus leaves as soon as it gets full.

Srinagar to Pahalgam by Taxi/Car

The best, fastest and most convenient way to reach Pahalgam from Srinagar is by taking a private taxi/car or a shared taxi. While a private taxi may cost around Rs. 2500 for a drop, a shared taxi can cost you around Rs. 250 per person. Private taxi will take you directly from Srinagar to Pahalgam but the journey via shared taxi will be broken into two parts – Srinagar to Anantnag and from Anantnag to Pahalgam.

If your budget permits, a private taxi will definitely be the best option to travel from Srinagar to Pahalgam.
Popular Travel Route for travelling from Srinagar to Pahalgam by Car
If you prefer travelling to Pahalgam from Srinagar by car, let us help you discover the popular and best route to travel for a comfortable journey.
Option 1: Srinagar to Pahalgam via NH 44

| | |
| --- | --- |
| Route | Srinagar – Qasim Bagh – Pampore – Awantipora – Anantnag – Mattan – Hassan Noor – Aishmuqam – Pahalgam |
| Distance | 108 km |
| Journey Duration | 3 hours |
| Road Condition | Average |

This is the most commonly used route for travelling from Srinagar to Pahalgam. It is also the shortest, fastest and best route to travel between Srinagar and Pahalgam. Since it is a regular route, you will not find road closures on the way. The route is eye-pleasing with views of towering mountains and deep valleys filled with pine trees.

Must Visit Attractions on the Route

Birdwatching at Manasbal Lake

At a short distance of 60 km from Srinagar, Manasbal Lake is a paradise for bird watchers. Here you can spot a wide variety of exotic birds like avian species, waterfowl, etc. This lake attracts a large number of migratory birds during the summer season, which makes it even more special.

Consider a diversion to the town of Parihaspora

Make a side trip to Parihaspora town, renowned for its mesmerizing architectural charm. Nestled along the Srinagar to Pahalgam route, near Anantnag, this quaint town is a favourite among tourists due to its ancient archaeological wonders, including Parihaspora Pattan and Pattan Bazaar, showcasing the architectural elegance of bygone eras.

Discover the enchanting village of Sangam

Explore the charming willow bat village, Sangam which is surrounded by breathtaking scenery and provides insight into the time-honoured craft of willow bat production. In this village, accomplished artisans painstakingly craft cricket bats from willow, blending tradition and precision with great care. A trip to Sangam allows you to fully appreciate the craftsmanship and dedication that go into creating the beloved cricketing equipment used worldwide.

Pay a visit to Ashmuqam Dargah

Famed for filming the song Bhar Do Jholi Meri from the movie Bajrangi Bhaijaan, Ashmuqam Dargah is one of the most famous dargahs of Kashmir. It is considered sacred by many people and is thronged by thousands of devotees during the annual Urs and Zool festival. The mausoleum is located inside a deep cave atop the hill, almost 100 meters higher than the main road.

Option 2: Srinagar to Pahalgam via NH 501

| | |
| --- | --- |
| Route | Srinagar – Bagh Shork Shah – Awantipora – Malik Gund – Pahalgam |
| Distance | 136 km |
| Journey Duration | 4 hours |
| Road Condition | Average |

This is an alternate route to travel from Srinagar to Pahalgam. The route is scenic and greets you with mesmerizing views of snow-laden cliffs, lush hills, dense pine forests, and colourful gardens. The road condition is average in most of the part. After travelling a few kilometres on NH 501, this route merges with NH 44.

Must Visit Attractions on the Route

Get a glimpse of the vast Saffron fields at Pampore

Not far from Srinagar, a brief detour leads to Pampore. It is the sole location after Spain where saffron, one of the world's most valuable spices, is cultivated. Situated on the eastern banks of the River Jhelum, Pampore is commonly referred to as the saffron hub of Kashmir. According to ancient tales, Persian rulers introduced saffron to India and planted saffron corms in the soil of Kashmir roughly 5,000 years ago.

Get a panoramic view of the city from Hari Parbat

Situated just a short distance from the main Srinagar town, adjacent to the highway, Hari Parbat is a popular tourist destination known for its beautiful view of the city and the surrounding mountains. It houses a Hindu temple and a fort. Built in the 16th century by the Mughal emperor Akbar, the fort showcases the brilliance of Mughal architecture and offers stunning views of the city.

Note: If you ask us, which is the best route to travel from Srinagar to Pahalgam, we would recommend option 1 – the Srinagar to Pahalgam route via NH 44. The reason is that this route is comparatively shorter and offers better sightseeing experiences en route
What to do once you reach Pahalgam
Now that we have discussed the travel route from Srinagar to Pahalgam, let us take you through another important aspect of this article, places to visit in Pahalgam and things to do in Pahalgam.
Enjoy River Rafter in Lidder Rive

Experience the thrill and adventure of white-water rafting in the Lidder River with grade II and III rapids. Surrounded by stunning landscapes, this thrilling joyride offers you the experience of a lifetime and it must be a part of every Kashmir Pahalgam itinerary.

Trek to Kolahoi Glacier

Located over the Lidder River, the Kolahoi Glacier trek is a 10 km gentle trek that takes you through the stunning views of the Kashmir Valley. This trek leads you to a glacier known as the 'Goddess of Light,' which serves as the continuous origin of water that energizes the Jhelam and Lidder rivers. It is the highest glacier in Kashmir. You can trek along the gorgeous creation of nature or choose to opt for a horse or pony ride to cover some distance.

Take a Trip to Betaab Valley

When talking about the best places to visit in Pahalgam, Betaab Valley has to top the list. Located 15 km from Pahalgam, Betaab Valley is one of the most popular tourist destinations in Kashmir. The beautiful and serene valley is surrounded by snow-clad mountains, lush green meadows, gushing rivers, pine and deodar forests and dense vegetation, making it a paradise for nature lovers and adventure enthusiasts alike. You may stroll in the woods, chill on the banks of the Lidder River or indulge in zip lining adventure.

Discover the Enchanting Beauty of Tarsar Lake

Tarsar Lake in Kashmir Pahalgam is a magnificent spot to witness nature's splendour. It comes alive in summer with migratory birds like cinnamon sparrows and high-flying choughs. During winter, it is covered in snow and inaccessible. To experience its surreal beauty, visit in summer or spring.

Explore Nature's Delight at Aru Valley

Another popular place to visit in Pahalgam is Aru Valley. It is a hidden gem popular for its scenic meadows, pine and cedar forests, lush meadows, tall standing mountains, colourful flowers, pristine lakes, pure streams and quaint villages. It is an ideal spot to experience nature's calm and serenity. It is also an ideal location to spot a varied range of rare and endangered species of animals such as the snow leopard, Asiatic black bear, and red fox. You can catch a bird's eye view of the entire valley through a paragliding experience or soak in the heavenly beauty of Aru Valley on a horseback ride.

Experience Snowy Wonderland at Chandanwari

If you are someone who loves snow, Chandanwari definitely deserves to be added to your Pahalgam tour itinerary. This pristine beauty is dotted with snow-capped cliffs, sparkling waterfalls and the beautiful Lidder River. It is also the starting point of the holy Amarnath yatra. You can explore the beauty of Chandwari by indulging in snow adventures like skiing, sledging, snowboarding, etc. or by taking a pony ride.

Take a Golfing Lesson at Pahalgam Golf Course

Enjoy a game of golf in the refreshing surroundings of the Pahalgam Golf Course. This picturesque course offers a unique blend of sport and natural beauty, making it a memorable experience for golf enthusiasts.

Seek Blessings at Avantipur Temple

The list of popular things to do in Pahalgam cannot be complete without adding a visit to the revered Avantipur temple, located just a short distance from Pahalgam market. It is an ancient archaeological site that provides a glimpse into the region's rich history. Built around 855-883 AD, Avantipur is an impressive temple featuring age-old ruins, exquisite stone carvings and intricate architecture. While the temple complex houses several temples, the two primary structures are devoted to Lord Shiva and Lord Vishnu.
Wrap up
The journey from Srinagar to Pahalgam is a gateway to exploring the paradise of Kashmir. With its lush valleys, serene lakes, and breathtaking landscapes, Kashmir Pahalgam is a must-visit destination for nature lovers. Whether you choose to go trekking, enjoy golfing lessons, or simply unwind in the lap of nature, Pahalgam tour packages offer a diverse range of experiences in this mesmerizing region.
To get customised Pahalgam holiday packages, get in touch with eKashmirTourism. We will design the perfect Srinagar to Pahalgam itinerary for your next trip considering your preferences and budget.
FAQs
How far is Pahalgam from Srinagar?
Pahalgam is located at a distance of 88 km from Srinagar. It takes about 2 hours 30 minutes to reach Pahalgam from Srinagar.
What is the fastest way to reach Pahalgam from Srinagar?
The fastest way to reach Pahalgam from Srinagar is to take a private taxi or car which charges around Rs. 2000 to Rs. 2500 and takes 1 hour and 30 minutes to reach.
How is the weather in Pahalgam?
Pahalgam is known for its pleasant climate throughout the year. January is the coldest month in Pahalgam with an average temperature of 8°C and August is the hottest month in Pahalgam with an average temperature of 25°C. Between April and September, the sun shines for about 10 hours a day.
How many days stay is ideal in Pahalgam?
A two to three-day visit is sufficient for experiencing the splendours of Pahalgam while also enjoying leisurely relaxation in its tranquil and serene atmosphere.
Which is the best month to travel to Pahalgam?
The best months to visit Pahalgam are between March and November when the weather remains pleasant and ideal for outdoor excursions. Having said that, if you like to experience snow, then December to January is the best time to visit Pahalgam.
Is it worth going to Pahalgam from Srinagar?
Absolutely, it is worth going to Pahalgam from Srinagar. Pahalgam is a breathtaking gem in the crown of Kashmir's natural beauty. With its lush green meadows, pristine lakes, and stunning landscapes, Pahalgam offers a picturesque retreat for nature enthusiasts, trekkers, and those seeking serenity. The captivating beauty of Pahalgam makes it a must-visit destination in the region.
ekashmir Best Sellers
6 Nights / 7Days

Kashmir Marvellous Tour

Rs. 14999

Rs. 17999

6 Nights / 7Days

Kashmir Magnificent Tour

Rs. 14999

Rs. 17999

4 Nights / 5Days

Exotic Kashmir Trip

Rs. 11499

Rs. 14499

5 Nights / 6Days

Kashmir Unconnected Tour

Rs. 11999

Rs. 14999

5 Nights / 6Days

Kashmir Family Tour Package

Rs. 11999

Rs. 14999

3 Nights / 4Days

Kashmir Itinerary For 4 Days

Rs. 10999

Rs. 13999

Subscribe to us
Subscribe to our newsletter and stay updated

Request a call back
Our experts would love to create a package just for you!