Detailed Guide to Visit Pahalgam in October – Places to Visit and Things to Do in Pahalgam
Planning to explore all the beautiful places to visit in Pahalgam in October? Or want to experience the fun and thrill of enjoying all the things to do in Pahalgam in October? Well, if such is your plan, you have probably made the best travel plan in your life! While Pahalgam needs no introduction to the visitors, the month of October adds more charisma and beauty to this scenic hill station town in Kashmir.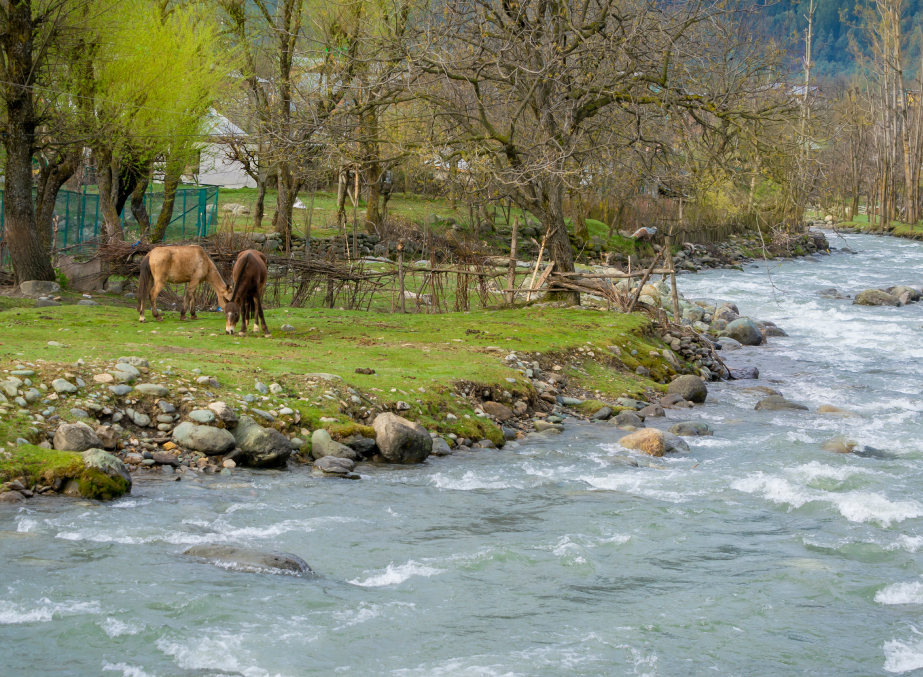 Since this month is the peak of the autumn season in the valley, you will be greeted with deciduous trees adorning the region in a vibrant tapestry of red, orange, and yellow leaves. This change in foliage adds a touch of magic to the already breathtaking scenery. As you explore all the places to visit in Pahalgam in October, you will find the fallen leaves carpeting the ground, creating a serene and bucolic atmosphere.
Moreover, as in this month, the atmosphere remains very clear with the temperature being at a moderate level, visitors get to enjoy all the things to do in Pahalgam in October thoroughly. The pleasant climate makes it an ideal period to participate in most of the fun and exciting outdoor activities. Starting from sightseeing to river rafting in the Lidder River, and trekking to pristine lakes to laze around the scenic valley, October is surely the best time to visit Pahalgam with family and friends.
Places to Visit in Pahalgam in October
Things to Do in Pahalgam in October
How to pack for Pahalgam in October
Planning to discover and explore all the beautiful places to visit in Pahalgam in October? Or all the exciting things to do in Pahalgam in October is there in your mind? Well, in either of the scenarios, you must know that October is among the best months to visit this scenic hill station in Kashmir. The month is uniquely marked by pleasant weather, a clear atmosphere, moderate temperature, and unlimited fun-frolic.
While packing for this month you must keep in mind that you must be extra cautious with your clothes and other warm wears. As mentioned, though the temperature remains moderate, visitors from plains or other low-altitude areas might find it difficult to withstand such a low-temperature range. Hence, packing enough warm clothes; woollen and other heavy jackets, would help you stay warm and enjoy all the beautiful places to visit in Pahalgam in October month. Other accessories like trekking shoes, thick pair of socks, hand gloves, etc. would also provide you additional warmth while touring around the places or enjoying the things to do in Pahalgam in October.
Additionally, you should also carry good quality water bottles, plastic bags to collect all the waste or leftover foods, skin moisturisers and other lotions, a basic first-aid kit, and other similar hand items. Also, carrying common medicines for headaches, body pain, indigestion, fatigue, vomiting tendencies, and other such ailments could rescue you from many unforeseen situations.
How to Reach Pahalgam in October
By Air:

Located almost 91km away from Pahalgam, the Srinagar International Airport serves as the nearest airport to reach Pahalgam by air. The airport has direct or connecting flights from major Indian cities like Delhi, Kolkata, Mumbai, Chandigarh, and others. Most of the primary air carriers in India have flights from this airport. Once you reach the airport, you can avail local taxi or cab services to reach Pahalgam by road. Local buses are also available at regular intervals.

By Train:

A train journey to Pahalgam would not be possible as the hill station does not have a railway station. However, the Jammu Tawi Railway Station which is located around 220km away from Pahalgam could help you in planning to reach Pahalgam by train. Since the station has a good number of trains plying in and out from across various Indian cities, you can easily book train tickets to reach Jammu Tawi Railway Station from your origin city.

Once you arrive at the station, you can hire cabs and taxis, or even the local buses to reach Pahalgam and start on your quest to explore all the scenic places to visit in Pahalgam in October.

By Road:

As you are planning to enjoy all the fun things to do in Pahalgam in October, you must know that a road journey to this gorgeous hill station this month could be the experience of a lifetime. During this season, the journey is accompanied by great visuals and sceneries. While the snow-capped peaks at the distance will keep you glued, the lush locales along the roadways will usher more life into you. As you will be approaching Pahalgam, you will witness an awe-inspiring change in the terrain along with scenic valleys catching all your attention. This surely promises a memorable trip wherein you also get rewarded with a list of places to visit in Pahalgam in October month.
Where to Stay in Pahalgam in October
Pahalgam is dotted with plenty of stay options. Being one of the most popular and scenic hill stations in the country, this region has hotels and other stay options that can easily fit into all types of budgets. Whether you want luxurious hotels or affordable rooms, local lodges or homestays, you will find ample options while planning to enjoy all the exciting things to do in Pahalgam in October month. However, since you will be embarking on your trip with us, you need not bother much about how or where to find suitable stay options. But, if you planning to explore all the places to visit in Pahalgam in October, you must start searching for stay options before your travel date as this month is considered one of the peak tourism months in the valley.
Also, since tourism reaches its peak this month, you may find the booking cost on the higher side. At times, the local vendors might ask you for additional charges. We suggest you consult with our sales team to know the apt prices for hotel and other bookings before you make any.
Mobile Connectivity in Pahalgam:
BSNL: You can count on BSNL's network to provide reliable connectivity and 4G services at all the major spots in Pahalgam in November, ensuring you stay connected while enjoying the various activities in the area.

AirTel: AirTel is renowned as the most dependable service provider in Pahalgam, holding a strong reputation for both mobile connectivity and 4G services. Nonetheless, when venturing beyond the primary tourist areas, you might encounter some network distortion.

Jio: Jio is another service provider offering dependable services in Pahalgam, with their internet services earning a reputation for reliability in the area. However, similar to other providers, their connectivity may experience challenges when you venture away from the central locations in Pahalgam.

Vodafone: If you are already a Vodafone customer, it's advisable to stick with their services. However, for those who are not Vodafone customers, we do not recommend opting for their services, as they do not enjoy a particularly favourable reputation in Pahalgam and its surrounding areas.
Distance Between Pahalgam and Other Nearby Places:
Jammu & Kashmir – Pahalgam: 140km (5 hours)

Srinagar – Pahalgam: 91km (2.5 hours)

Jammu – Pahalgam: 234km (7 hours)

Gulmarg – Pahalgam: 140km (4 hours)

Sonmarg – Pahalgam: 168km (4.5 hours)

Udhampur – Pahalgam: 170km (6 hours)

Anantnag – Pahalgam: 42km (1 hour)

Kargil – Pahalgam: 290km (8 hours)

Gurez Valley – Pahalgam: 214km (7 hours)
ekashmir Best Sellers
6 Nights / 7Days

Kashmir Marvellous Tour

Rs. 14999

Rs. 17999

6 Nights / 7Days

Kashmir Magnificent Tour

Rs. 14999

Rs. 17999

4 Nights / 5Days

Exotic Kashmir Trip

Rs. 11499

Rs. 14499

5 Nights / 6Days

Kashmir Unconnected Tour

Rs. 11999

Rs. 14999

5 Nights / 6Days

Kashmir Family Tour Package

Rs. 11999

Rs. 14999

3 Nights / 4Days

Kashmir Itinerary For 4 Days

Rs. 10999

Rs. 13999

Subscribe to us
Subscribe to our newsletter and stay updated

Request a call back
Our experts would love to create a package just for you!