Detailed Guide to Visit Pahalgam in November– Places to Visit and Things to Do in Pahalgam
Are you planning to explore all the places to visit in Pahalgam in November? Or planning to experience all the exciting things to do in Pahalgam in November month? Well, whether you are planning for both or each of them, you must know that you have just chosen the right month to explore the pristine beauty of this region while having unlimited fun and excitement by indulging in amazing tourist activities.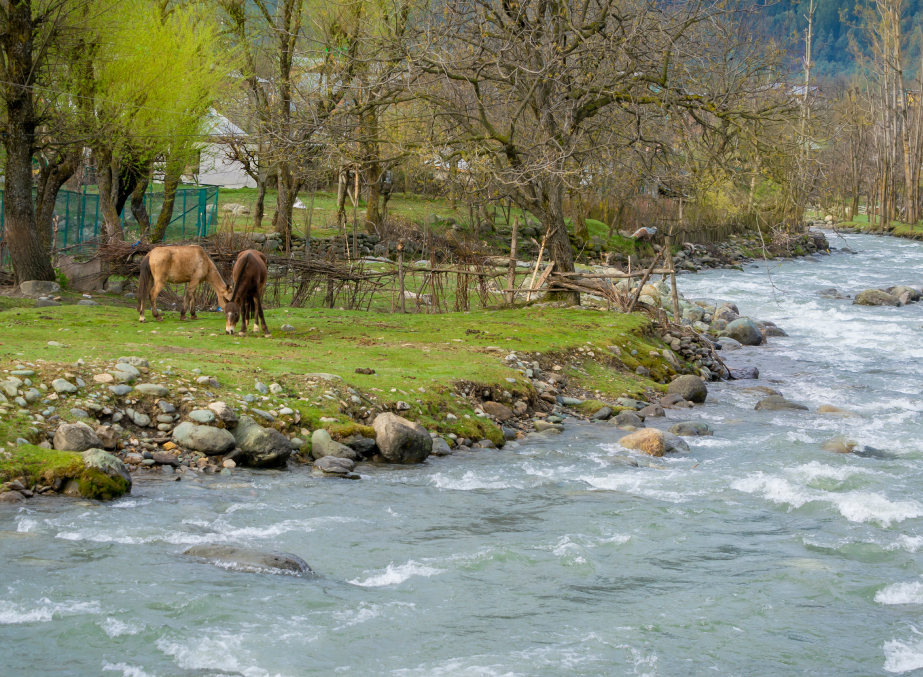 November is the month that typically marks the beginning of the much-awaited winter season in Pahalgam. Yes, you heard right! As this month knocks on the calendar, the entire Pahalgam enters into its hibernation period wearing a dim gloomy attire. The lush green outlook of the region starts getting covered with light snowflakes giving the ambience a crispy and captivating outlook.
On the other side, the enthralling peaks and mountains engulfing Pahalgam showcase a stark change in November. While the peaks start getting covered with thick layers of snow, the rest of the portions still wear all the hues and colours of nature! This truly creates a magical site that serves as an absolute treat to visitors' eyes. So, let's not talk much and get straight to the list of some of the amazing places to visit in Pahalgam in November along with a list of exciting things to do in Pahalgam in November month.
Places to Visit in Pahalgam in November
Betaab Valley

When it is Betaab Valley, you don't have to ask for anything else. One of the finest and most scenic places to visit in Pahalgam in November month, this valley has a deep-rooted connection with yesteryear's Hindi blockbuster movie named 'Betaab'. It is from this movie, that this valley got its name Betaab Valley.

( Beautiful View of Betab Valley during winter season, near Pahalgam, Kashmir, India )

During November, the entire Betaab Valley gets covered with a blanket of colourful autumn leaves. This undoubtedly creates a tranquil and kaleidoscopic ambience all across the valley. Furthermore, the backdrop that includes the semi-snow-capped mountains and peaks adds more to the enchanting beauty of the valley. For nature lovers and shutterbugs, nothing can beat the beauty of Betaab Valley in the list of places to visit in Pahalgam in November.

Aru Valley

Aru Valley is another great addition to the list of places to visit in Pahalgam in November. As November month marks the onset of winter, Pahalgam transforms into a captivating wonderland that can captivate all your senses this month. Nestled amidst the pristine Himalayan variety, Aru Valley takes on an otherworldly attraction because the autumn foliage begins to merge with the primary dustings of snow. The panorama is a painter's dream, with the vivid colourings of fallen leaves contrasting in opposition to the pristine white of the early snow.

( Horses grazin at Aru Valley Near Pahalgam )

The invigorating crisp mountain air and the stillness of the environment impart an experience of serenity that is hard to locate someplace else. The gently flowing Lidder River, partly frozen, provides a soothing soundtrack to this herbal masterpiece. Adventure seekers can discover the valley on horseback or embark on treks through the surrounding forests, even as amusement seekers can, in reality, bask inside the valley's tranquillity. Aru Valley in November is a testimony to nature's artistry!

Mamaleshwar Temple

If you are looking for some spirituality while searching for places to visit in Pahalgam in November, you must visit the Mamaleshwar Temple. Nestled against the backdrop of the majestic Himalayas, this sacred temple is dedicated to Lord Shiva. Come November, the temple looks irresistibly captivating as its surrounding landscape transforms into a riot of colours with autumn leaves scattered across the temple premises.

( This temple is devoted to Lord Shiva and stands across the Kolahoi stream up towards the mountain. )

As the climate turns cooler, the Mamaleshwar Temple gives a tranquil sanctuary for meditation and reflection. The gentle sound of the nearby Lidder River and the crisp mountain air create a relaxing atmosphere that encourages an experience of internal peace. It's a time when the temple's profound beauty is more desirable through the converting seasons, making it a genuinely unique vicinity to go and seek blessing from Lord Shiva!

Chandanwari

Chandanwari could easily top the list of places to visit in Pahalgam in November! During this month of the year, this region enters into its transition period eliciting a symphony of emotions that can easily resonate with your soul. As autumn transitions into early wintry weather, the ambience goes through a celestial transformation. The landscape starts to shimmer beneath a dusting of snow, casting a tranquil hush over this faraway nook of Kashmir.

( A beautiful place in the heights of Pahalgam, surrounded by the mountains, greenery, snow, with lidder river racing down through the rocks. )

Emotions right here are like the seasons themselves, moving from awe to wonderment. The crisp mountain air fills the heart with pleasure, while the first snowflakes evoke childlike exhilaration. Chandanwari's airy appeal elicits a feel of humility and reverence, as you stand amidst the awe-inspiring peaks of the Himalayas. With all these, Chandanwari becomes one of the most scenic and beautiful Pahalgam places to visit in November.

Baisaran Valley

Nestled in the lap of the majestic Pir Panjal Range, Baisaran Valley can easily put other places to visit in Pahalgam in November to shame with its pristine and magical beauty. An enchanting canvas painted with nature's most vibrant strokes; the valley showcases an unbelievable transformation as November arrives. The green shade of the entire vicinity gets gently caressed with the crispiness of winter, and the valley turns into a kaleidoscope with the fallen autumn leaves.

( Baisaran Valley( Mini Switzerland) Pahalgam, Kashmir. )

Visiting Baisaran Valley this month would immediately transport you to the locales of Switzerland. Hence it is fondly called the 'Mini Switzerland of India'. High towering mountains with the essence of winter, the lush pine forests wearing a crispy layer of snowflakes – everything just appears so dreamy that you would have to pinch yourself to believe in reality! This surely tops Baisaran Valley as one of the most gorgeous places to visit in Pahalgam in November.

Sheshnag Lake

This is truly a jewel nestled amidst the towering peaks of the Himalayas, offering a mesmerizing spectacle in its November guise. As the season gently transitions into wintry weather, Sheshnag Lake dons an interesting charm. The nonetheless waters of the lake mirror the snow-capped mountains like a flawless mirror, growing a surreal and symmetrical panorama. The serenity that envelops the lake in November is extremely captivating!

( Panoramic view of Kashmir mountains around Sheshang lake in India. )

The air is crisp, and a serene hush blankets the surroundings. Occasionally, the decision of remote birds breaks the silence, improving the charisma of tranquillity. The lake's fringes are kissed by way of the primary snowflakes, lending an ethereal pleasant to its shores. It's a destination that beckons nature lovers, leisure travellers, adventure junkies, and other visitors as well. If you are searching for the most peaceful and scenic places to visit in Pahalgam in November, Sheshnag Lake is where you should be!

Tulian Lake

Come November, Tulian Lake turns into a bewitching wonderland under the crispy clutch of winter. This is a time of the year when it's not either too humid, or too cold. This surely makes Tulian Lake one of the most wonderful places to visit in Pahalgam in November. Adding more, as few portions of the lake have already started freezing down, they might deceive you to be mirages created by nature!

( Tulian lake view in Pahalgam)

However, what makes Tulian Lake a place to behold is the journey to it. To reach the lakeside, visitors need to trek through lush pine and deodar forests. As the terrains are quite rugged, the trek could get a bit challenging all through. Well, all the challenges and obstacles are finally rewarded with nature's enchanting beauty as you reach the lakeside. On arriving at the spot, you will find all the answers to why Tulian Lake is always included in the list of places to visit in Pahalgam in November!

Kolahoi Glacier

The towering Pir Panjal Range in Pahalgam holds many deep secrets that can soothe your mind and soul! The fascinating Kolahoi Glacier is one such secret that can easily feed your mind and soul with the thrill and excitement you have been seeking for a long! One of the most promising places to visit in Pahalgam in November month, the journey to this glacier is even more exciting and heart-thumping.

( Man trek in Kolahoi Glacier )

The trek to Kolahoi Glacier takes you through landscapes that can turn dramatic at every step you take. While at times you will be trekking through lush meadows, you may find yourself amidst challenging terrains during other times. The moment you reach the glacier, its icy blue colour amidst snow-clad peaks will catch all your attention. Being there, you may have to ask yourself: is this reality or I'm still dreaming?

Pahalgam Club Garden

The Pahalgam Club Garden is a colourful oasis that also claims to be among the most vibrant places to visit in Pahalgam in November. As the season starts shifting towards the cold and crispy grip of winter in this month, this garden starts showcasing all the vivid colours of nature in the most promising ways. While the ambience is filled with all the colours, the fragrance of the flowers will further fill your heart with all the emotions and tenderness.

Whether you want to indulge in nature photography or simply stroll around the Pahalgam Club Garden, you will enjoy every bit of it. Enhancing your experience, there is the gurgling water of the Lidder River that will further melodise your experience in this garden. The garden is also a hotspot for romance lovers or honeymooners searching for the best places to visit in Pahalgam in November.

Pahalgam Golf Course

Why would you visit a usual golf course while holidaying around? Well, you might not find any reason to visit such a playground during your holidays, but what if we tell you that this is one of the highest golf courses in the world? You surely can't say 'no' now – welcome to the Pahalgam Golf Course! Located against the mesmerising backdrop of the mighty Himalayas, this 18-hole golf course is also one of the most scenic golf courses in the world.

( A view of the Golf Course )

Being located at such a high elevation, the entire golf course starts getting cossetted with a thin layer of snow in November month. As the green shade of the golf course starts getting covered with the transparent layer of snow, it creates an awe-inspiring spell all around. If you are searching for the most amazing places to visit in Pahalgam in November, you must visit the Pahalgam Golf Course at least once!

Lidder River

If you are the one who prefers peace, tranquillity, quiet moments, and a soulful blend of Mother Nature, you must spend time alongside the gushing Lidder River. Meandering across the scenic meadows and valleys of Pahalgam, this river serves as the lifeline to the locals and a source of utmost joy, peace, serenity, and seclusion to the visitors. Spending time along the banks of Lidder River has its own charm that can be only felt once you experience it.

( Pahalgam is a scenic village where Lidder river flows along the valley. Women can be seen washing clothes at the banks of the river. )

One might get overflooded with the list of places to visit in Pahalgam in November, but once you make your way to the river banks, you will definitely not wish to leave the site. Open blue sky overhead, the majestic Himalayas on the backdrop, the gurgling melodies of the river, and the calmness; everything would get you infected with their charm and grandeur for sure!
Things to Do in Pahalgam in November
How to pack for Pahalgam in November
The month of November is one of the most magical months to witness how Pahalgam gets into the ambience converting from a lush green world to wearing a snowy white outlook! In this month, you can easily expect the temperature to reach somewhere between -5 to 6 degrees or even less than this. Considering this, you need to pay additional care while packing for your Pahalgam trip in November.
Carrying heavy woollen clothes is strictly suggested if you want to enjoy all the places to visit in Pahalgam in November month. Alongside, you must also pack other woollen or heavy additional wear like socks, hand gloves, mufflers, shoes, bathroom slippers, and others.
To avoid the crispy clutches of the cold, you should also carry your preferred skin moisturizers, lotions, creams, lip balms, and other such products. Essentials like water bottlers, energy bars, chocolates, energy drinks, and other ready-to-eat foods or drinks could rescue you from all tough conditions.
How to Reach Pahalgam in November
By Air:

The Srinagar International Airport, which is located around 91km from Pahalgam, is the only airport to reach Pahalgam by air. The airport has a very decent connectivity with other major Indian cities including Delhi, Mumbai, Chandigarh, Kolkata, and others. Some of the major or prominent Indian airlines have regular flights between Pahalgam and these cities. Once you have your flight tickets booked and reach Srinagar International Airport, you can hire local cabs or taxi services to reach the main Pahalgam valley by road. Regular buses are also available between the airport and Pahalgam Valley.

By Train:

Jammu Tawi Railway Station is the nearest railway station to Pahalgam. Located within a distance of 220km from the main valley, this station is among the busiest in the region and has a good number of trains plying in and out from various corners of India. Booking train tickets to Jammu Tawi Railway Station could be the easiest way to reach Pahalgam by train. Upon your arrival at the train station, you can get local cabs or taxis, or even the local buses to reach the main valley by road.

By Road:

A roadway journey can be the most captivating way to reach Pahalgam while enjoying the pristine beauty of nature. If you are looking for the best places to visit in Pahalgam in November, or searching for the things to do in Pahalgam in November, you can start your road journey from Srinagar. On the other hand, you can also consider Jammu and Anantnag as your starting point, to begin with your roadway journey to Pahalgam. Also, as November month brings in a stark change in the climatic conditions, we would suggest you not embark on your journey with your vehicle. The road conditions might not suit everyone. Well, if you have traversed these routes before, you shouldn't have any issues manoeuvring the routes.
Where to Stay in Pahalgam in November
November is among the peak travel months in Pahalgam. As the weather starts shifting towards winter, the valley becomes much more magical with light hues of snow all around. From the valley, you can already witness the distant Himalayan peaks getting capped with snow. Even the lush pine and deodar forests start fondling with the snowflakes creating a magical spell all across Pahalgam.
Owing to all these miraculous changes in the atmosphere, visitors prefer this month to experience and enjoy the beauty of the region. Hence, it is always advisable to make prior hotel and transportation bookings if you want to explore all the places to visit in Pahalgam in November. The entire valley is dotted with plenty of hotels, cottages, homestays, tourist bungalows, and other stay options. You can easily get your preferred stay options in and around most of the popular places to visit in Pahalgam in November. However, you just need to keep in mind about early or prior bookings.
Mobile Connectivity in Pahalgam:
BSNL: You can rely on BSNL's network while enjoying all the things to do in Pahalgam in November. They offer pretty decent connectivity and 4G services across all the prime locations in the region.

AirTel: They are known to be the most reliable service provider in Pahalgam. Be it mobile connectivity or 4G services, they have a good reputation in Pahalgam. However, as you move out of the main tourist places, you may face a bit of distortion in the network.

Jio: Jio also offers reliable services in Pahalgam. Their internet services are also known to be very reliable in Pahalgam. However, like other service providers, their connectivity can also suffer if you move away from the prime locations in Pahalgam.

Vodafone: You should use their services if you are an existing Vodafone customer. Otherwise, we may not suggest you opt for their services since they don't have a very decent reputation in Pahalgam and other nearby regions.
Distance Between Pahalgam and Other Nearby Places:
Jammu & Kashmir – Pahalgam: 140km (5 hours)

Srinagar – Pahalgam: 91km (2.5 hours)

Jammu – Pahalgam: 234km (7 hours)

Gulmarg – Pahalgam: 140km (4 hours)

Sonmarg – Pahalgam: 168km (4.5 hours)

Udhampur – Pahalgam: 170km (6 hours)

Anantnag – Pahalgam: 42km (1 hour)

Kargil – Pahalgam: 290km (8 hours)

Gurez Valley – Pahalgam: 214km (7 hours)
ekashmir Best Sellers
6 Nights / 7Days

Kashmir Marvellous Tour

Rs. 14999

Rs. 17999

6 Nights / 7Days

Kashmir Magnificent Tour

Rs. 14999

Rs. 17999

4 Nights / 5Days

Exotic Kashmir Trip

Rs. 11499

Rs. 14499

5 Nights / 6Days

Kashmir Unconnected Tour

Rs. 11999

Rs. 14999

5 Nights / 6Days

Kashmir Family Tour Package

Rs. 11999

Rs. 14999

3 Nights / 4Days

Kashmir Itinerary For 4 Days

Rs. 10999

Rs. 13999

Subscribe to us
Subscribe to our newsletter and stay updated

Request a call back
Our experts would love to create a package just for you!