Detailed Guide to Visit Pahalgam in July – Places to Visit and Things to Do in Pahalgam
If there is one destination in India that gets ever more fervent and delightful with the arrival of the monsoons, then it has to be Pahalgam in July. It is that time of the year when the ravishing valley of Pahalgam gets flooded with thousands of tourists from all across the world to get a glimpse of its breathtaking topography and enchanting surroundings. Pahalgam is transformed into a mystical wonderland with the rains taking over and starts exhibiting a vibrancy and enchantment like you probably have never experienced before.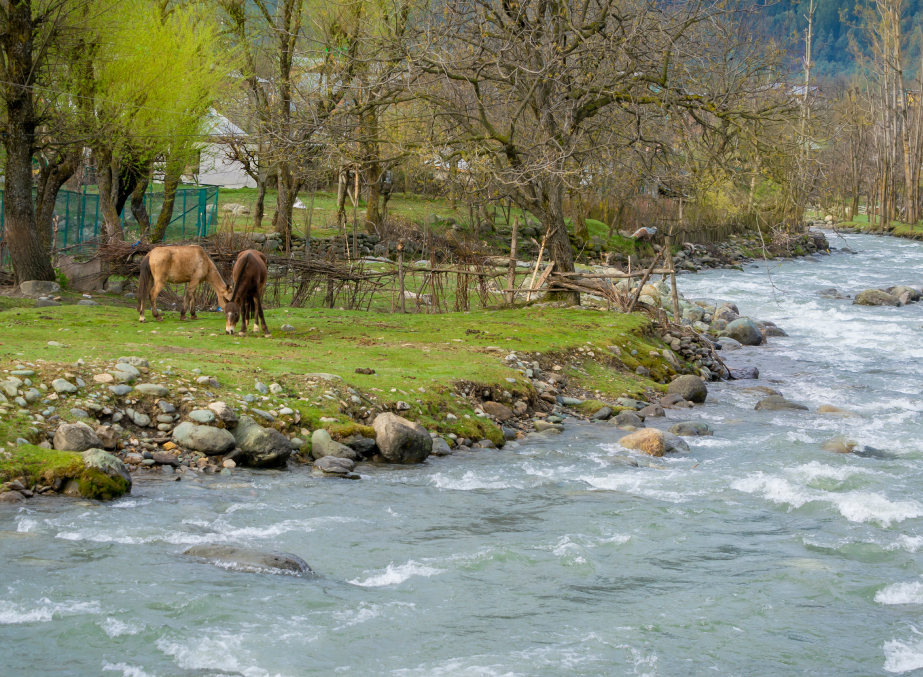 As the monsoons start to hit the picturesque valleys of Pahalgam in July, the landscape begins to radiate a more glistening look. The arrival of the rains paints a different picture altogether in this magical destination. The lush green meadows, dense pine forests and tall cedar trees along with the majestic Tulian Lake, the fast-flowing Lidder River, and the colossal Himalayas transform the valley of Pahalgam into a magical land of ethereal beauty. A vacation in this 'Heaven on Earth' in July is going to last in your memory for the rest of your life.
So, without any further ado, let us assist you in unforgettably planning your vacation with the list of places to visit in Pahalgam in July.
Places to Visit in Pahalgam in July
Things to Do in Pahalgam in July
How to pack for Pahalgam in July
Packing for Pahalgam in July requires some thought and patience as well. Exploring all the scenic places to visit in Pahalgam in July requires careful packing of your stuff. Whether clothes or medicines, accessories or any other possession, you must double-check before you embark on this trip. However, don't worry as we will take you through a quick guide related to how to pack for Pahalgam in July.
July invites the monsoon rain to the hill station. Though the region doesn't receive heavy rainfall, you may not wish to get drenched while visiting the places or enjoying all the things to do in Pahalgam in July. Along with this, you may also find the weather a bit humid and the temperature shifting towards the lower side for a while.
Keeping all these in mind, you need to pack your bags very carefully with clothes that can keep you warm as well as dry this month. Packing heavy jackets, woollen clothes, warm hand gloves, good quality or sturdy shoes, a pair of additional socks, etc. would keep you warm as you tour around this gorgeous hill station.
Also, carrying additional things like skin moisturisers, lip balms, lotions, necessary toiletries, tissue papers, and other similar materials will make things easy and handy for you. You should also carry good quality water bottles, thermos, a handy knife, energy bars and drinks, chocolate bars, and other food items that can be prepared with minimal effort.
Having a first-aid box with all the basic medications for fever, headache, body pain, indigestion, etc. will help you keep going as you manoeuvre across all the places to visit in Pahalgam in July.
How to Reach Pahalgam in July
By Air:

Planning to reach Pahalgam by air? Well, you must know that this scenic hill station has no direct flight connectivity with the rest of the world. However, the Srinagar International Airport, which is located around 91km from Pahalgam, serves as the nearest airport to reach Pahalgam by air. The airport has adequate number of daily flights connecting most of the prime Indian cities and other international destinations. Air carriers like Air India, Indigo, SpiceJet, and other major carriers have direct flights to the Srinagar International Airport. International air carriers also have direct flights to this airport.

Once you land at this airport, you need to opt for a road journey to finally reach your desired destination. There are cabs, taxis, and other road transportation options available outside the airport. The fares or charges are pretty decent and you can easily hire or book one of them to reach Pahalgam by road and enjoy all the fun-filled things to do in Pahalgam in July.

By Train:

If you are planning to reach Pahalgam by train, you have to book your train tickets to the Jammu Tawi Railway Station. Located around 220km from Pahalgam, this is the nearest and most convenient railway station to reach Pahalgam by train. The station is very well-connected with most of the Indian cities. If you planning to explore all the beautiful places to visit in Pahalgam in July from cities like Delhi, Mumbai, Kolkata, Chennai, Bangalore, Chandigarh, Hyderabad, or other destinations, you can easily find a number of trains taking you to the Jammu Tawi Railway Station.

Following your arrival at the railway station, you can call in for a taxi, cab, or a bus ride to Pahalgam. Trust the lord, this road journey can also be included in the list of exciting things to do in Pahalgam in July.

By Road:

If you are looking for something more from your trip, you must plan to reach to reach Pahalgam by road! A road trip to this gorgeous hill station could also be one of the most enthralling things to do in Pahalgam in July. Whirling terrains offer you enough challenges, scenic views all around, and the lofty mountain peaks gazing at you from a distance – everything makes this road trip a memorable one!

An ideal road trip to Pahalgam usually starts from Srinagar or Jammu city. You can choose either of these two points and hit the roads for a unique and equally exciting experience of reaching Pahalgam by road.
Where to Stay in Pahalgam in July
Since you are already curating the list of places to visit in Pahalgam in July, you must know that this is one of the best and peak months to visit this hill station. And while we say that this is a peak month, you must also note that this month hosts almost the highest number of visitors in the region. With such great footfall, finding available rooms or other stay options could become a challenge at times. Even if you get available rooms, you may find the prices rocketing up due to high demand.
Pahalgam has enough hotels and stay options ranging from minimum to maximum limit. However, as the number of tourists increases, the chances of finding available rooms decrease. Hence, we would suggest you prepare your trip well in advance and make the bookings immediately.
Or, you can simply book your Pahalgam tour packages with us or plan to visit and enjoy all the things to do in Pahalgam in July with us to skip this. We pre-book hotels and other stay options to make it easy for our guests. We also ensure that the hotel partners give us the best services, amenities, and facilities to make the stay more exciting and meaningful for our guests.
You can call us or get in touch with our sales team via email to learn more about all our exciting Pahalgam tour packages. They will love to help you with all your bookings and ensure you have the most memorable and pleasant stay in Pahalgam in July.
Mobile Connectivity in Pahalgam:
BSNL: You can rely on BSNL's connectivity in Pahalgam. They offer decent mobile connectivity along with reliable 4G services in the valley.

AirTel: This is also a reliable network in Pahalgam. They have good mobile and 4G connectivity around this hill station.connectivity throughout the valley. The network might undergo some distortion as you move away from the prime locations.

Jio: Jio also offers reliable mobile and internet connectivity in Pahalgam. However, connectivity can suffer a bit if you move out of the main locations.

Vodafone: We may not recommend Vodafone as most of the visitors complained about their connectivity. However, if you have been using their services already, you may opt for it.
Distance Between Pahalgam and Other Nearby Places:
Jammu & Kashmir – Pahalgam: 140km (5 hours)

Srinagar – Pahalgam: 91km (2.5 hours)

Jammu – Pahalgam: 234km (7 hours)

Gulmarg – Pahalgam: 140km (4 hours)

Sonmarg – Pahalgam: 168km (4.5 hours)

Udhampur – Pahalgam: 170km (6 hours)

Anantnag – Pahalgam: 42km (1 hour)

Kargil – Pahalgam: 290km (8 hours)

Gurez Valley – Pahalgam: 214km (7 hours)
ekashmir Best Sellers
6 Nights / 7Days

Kashmir Marvellous Tour

Rs. 14999

Rs. 17999

6 Nights / 7Days

Kashmir Magnificent Tour

Rs. 14999

Rs. 17999

4 Nights / 5Days

Exotic Kashmir Trip

Rs. 11499

Rs. 14499

5 Nights / 6Days

Kashmir Unconnected Tour

Rs. 11999

Rs. 14999

5 Nights / 6Days

Kashmir Family Tour Package

Rs. 11999

Rs. 14999

3 Nights / 4Days

Kashmir Itinerary For 4 Days

Rs. 10999

Rs. 13999

Subscribe to us
Subscribe to our newsletter and stay updated

Request a call back
Our experts would love to create a package just for you!