Detailed Guide to Visit Pahalgam in December – Places to Visit and Things to Do in Pahalgam
Are you the one who gets elated by witnessing snowfall? Or are you the one who gets enchanted by the miraculous beauty of nature? Or are you the one who simply cannot resist the temptation of the winter season? Well, if you find any of these experiences captivating, visiting Pahalgam in the month of December will satisfy your soul for sure! Furthermore, the places to visit in Pahalgam in December or the list of exciting things to do in Pahalgam in December will add an additional dose of fun-frolic, adventure, and thrill to your tour.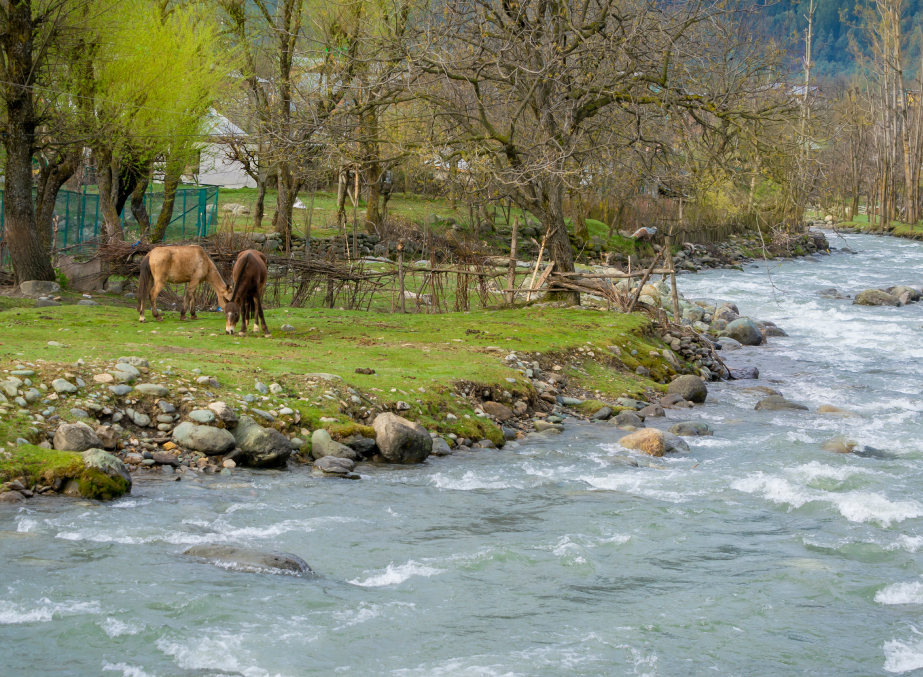 Come December, most of Pahalgam enjoys snowfall all across the region. This is the time when Pahalgam looks stunningly beautiful. The lush meadows and valleys get painted with the pure white shade of snowfall beckoning visitors from all the corners of the globe. December month also flags off an array of winter sports that can easily shoot up your adrenaline level and offer you the kick you have been longing for!
So, let's delve deep into the list of places to visit in Pahalgam in December to discover nature at its best. Also, the list of things to do in Pahalgam in December will add some more fun and thrill to your lives!
Places to Visit in Pahalgam in December
Things to Do in Pahalgam in December
How to pack for Pahalgam in December
December is the peak winter season in Pahalgam. Considering this, you must pack your bags well with woollen or heavy clothing. Jackets, sweaters, hoodies, and other winter clothes can help you maintain your body temperature through the shivering cold in December. Packing other items like mufflers, hand gloves, woollen socks, slippers, trekking shoes, arm sleeves, and others can also help you avoid the cold. You should also carry or pack some skin creams, lotions, ointments, and other moisturizers to avoid the dryness in the atmosphere.
How to Reach Pahalgam in December
By Air:

Since Pahalgam doesn't have any flight connectivity, you can book flight tickets to Srinagar International Airport from your departure destination. The airport is around 91km from the main valley. You can easily find private taxis or cab services, and regular buses from the airport to Pahalgam.

By Train:

With a distance of around 220km, the Jammu Tawi Railway Station serves as the nearest railway station to Pahalgam. The station is well-connected with major Indian cities like Delhi, Kolkata, Mumbai, Amritsar, Pathankot, and others. On arriving at Jammu Tawi, you can book local taxis, cabs, or buses to reach Pahalgam.

By Road:

If you are planning for a roadway trip to reach Pahalgam, Srinagar would be the best starting point. Jammu and Anantnag could also be two ideal points, to begin with your road journey. However, since you will be travelling in the month of December, it would be better to hire a local cab or taxi service to reach Pahalgam by road.
Where to Stay in Pahalgam in December
As you will be visiting Pahalgam in the month of December, you must know that this is considered an off-season in the region. Hence, there are great chances that you will get most of the hotels, cottages, homestays, and other stay options at a much-discounted price. You can easily find luxury to budget-friendly stay options scattered all across Pahalgam. Aru Valley, Betaab Valley, and Chandanwari are some of the prime locations where you will find some of the best hotels and other stay options in Pahalgam.
Mobile Connectivity in Pahalgam:
BSNL: Though BSNL doesn't have a good reputation across the country, it is considered to be the ideal service provider in Pahalgam. In fact, it is known to provide the widest range in Pahalgam along with decent data connectivity and internet speed.

AirTel: This is one service that you can always rely on while touring around Pahalgam. They have great mobile as well as 4G connectivity. Though speed and connectivity may suffer as you move out of Pahalgam, yet you can rely on their services.

Jio: You can also rely highly on Jio connectivity. They provide a decent mobile network and 4G connectivity all across Pahalgam. However, the network might suffer a bit as you visit remote or high-altitude locations.

Vodafone: We may not suggest Vodafone as their service is good only for prime city locations in Kashmir Valley. However, if you are already using their services, you can still use them in Pahalgam.
Distance Between Pahalgam and Other Nearby Places:
Jammu & Kashmir – Pahalgam: 140km (5 hours)

Srinagar – Pahalgam: 91km (2.5 hours)

Jammu – Pahalgam: 234km (7 hours)

Gulmarg – Pahalgam: 140km (4 hours)

Sonmarg – Pahalgam: 168km (4.5 hours)

Udhampur – Pahalgam: 170km (6 hours)

Anantnag – Pahalgam: 42km (1 hour)

Kargil – Pahalgam: 290km (8 hours)

Gurez Valley – Pahalgam: 214km (7 hours)
ekashmir Best Sellers
6 Nights / 7Days

Kashmir Marvellous Tour

Rs. 14999

Rs. 17999

6 Nights / 7Days

Kashmir Magnificent Tour

Rs. 14999

Rs. 17999

4 Nights / 5Days

Exotic Kashmir Trip

Rs. 11499

Rs. 14499

5 Nights / 6Days

Kashmir Unconnected Tour

Rs. 11999

Rs. 14999

5 Nights / 6Days

Kashmir Family Tour Package

Rs. 11999

Rs. 14999

3 Nights / 4Days

Kashmir Itinerary For 4 Days

Rs. 10999

Rs. 13999

Subscribe to us
Subscribe to our newsletter and stay updated

Request a call back
Our experts would love to create a package just for you!